Our Story
There's nothing quite like our crochet bouquets. We always give you the best!
"We get that warm and fuzzy feeling single time."
Everything happens with love, and we know that warm and eternal love!We know that it feels as good to give as it does to receive.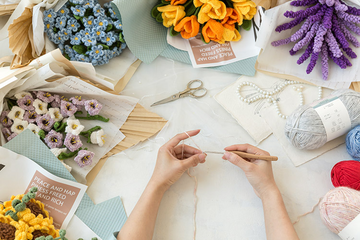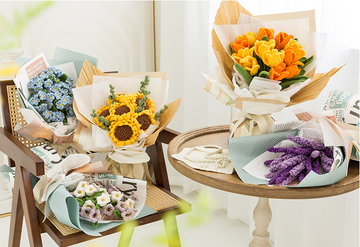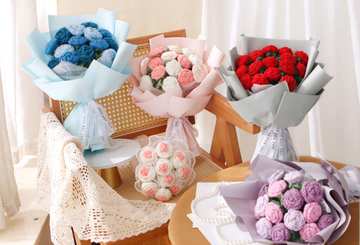 Since our products are promised to be hand-made, the requirements for product quality are very strict, and hand-made products do not support return or exchange. When purchasing, please check our product description in detail and choose your favorite color and style.
Cancellation/Refunds
Orders cannot be cancelled once Worldcrochetflowers has begun processing the order. In order to promptly deliver our arrangements as fresh as possible, the processing of an order commences almost immediately once you have submitted your order. However, should you wish to change or cancel your order, you are welcome to call us to check whether the processing of an order has commenced, and if it has not we may be able to accommodate your request to cancel and will do our best to meet your needs. Any changes to or cancellation of an order can only be made with Worldcrochetflowers's prior written approval and additional charges may apply. Any agreement by Worldcrochetflowers to accommodate a cancellation request will be conditioned upon payment of any and all costs, charges and expenses already incurred by Worldcrochetflowers to that point, and you agree that such amounts may be deducted from any payments previously made to Worldcrochetflowers. During routine website maintenance, any pricing issues may not be honored and orders may be cancelled and refunded when improper rates are applied.
Accordingly, we encourage you to carefully check your order before submitting it.
Damages and issues
Please inspect your order upon reception and contact us immediately if the item is defective, damaged or if you receive the wrong item, so that we can evaluate the issue and make it right.
Unfortunately, we cannot accept returns on sale items or gift cards.
Delivery
Delivery will be deemed to have taken place at the time Worldcrochetflowers places an order in the possession of any carrier service (e.g., UPS, USPS, or Federal Express, DHL, Hand Delivery) for customer delivery. Worldcrochetflowers is not responsible for lost, stolen or damaged goods once an order leaves our possession.
If you choose a specific delivery date when placing your order, we will do our best to arrange delivery for that day. You acknowledge that requested delivery dates are non-binding estimates only and that you have no claim against us for any delays or early deliveries. Once your order is in the hands of the carrier we have no control over the delivery process and we recommend you choose a delivery date at least one day early to avoid disappointment. We reserve the right to make deliveries in installments which shall not relieve you from your obligation to accept and pay for remaining deliveries.
Copyright
You agree that you own or license the copyright (or are authorized by the copyright owner to send to us and use) any content or images you submit to us for custom work, and you warrant that none of the content or images contain anything which would infringe on any copyright, trademark, design right or other intellectual property right of any third party. We will not check the content of any images provided by you. However, if we believe any image does not comply with these terms, we reserve the right to refuse to use it, without any obligation or liability to you. We will fully co-operate with any law enforcement authorities or court order requesting or directing us to disclose the identity of or locate anyone sending any material in breach of these terms.
Images sent to us remain under the existing copyright. By sending us an image you are granting us a license to modify, print, or otherwise use the image in accordance with the details of your order. By placing an order and accepting these terms you are accepting any and all liability for any consequences of Worldcrochetflowers using the images you supply.
For companies or organizations providing corporate logos or trademarked images, it is your responsibility to ensure that any material supplied in any medium is not protected by any copyright law, or that any necessary permission for Worldcrochetflowers to reproduce the images has been obtained.
We may photograph products that we provide to you, including those decorated with a logo or other artwork supplied by you. We may display these photographs on our Website or other advertising media, for Worldcrochetflowers's marketing and promotional purposes, unless specifically requested in writing by you not to do so.
Warranty
Worldcrochetflowers warrants that it has the right to provide its products but otherwise the goods are provided on an "as-is" basis, without warranty of any kind, express or implied, oral or written. In particular, but without limitation, no warranty is given that the goods are suitable for the particular purposes intended by you.
All our crochet designs
Each product proves our expertise and service to crochet