Our Story
There's nothing quite like our crochet bouquets. We always give you the best!
"We get that warm and fuzzy feeling single time."
Everything happens with love, and we know that warm and eternal love!We know that it feels as good to give as it does to receive.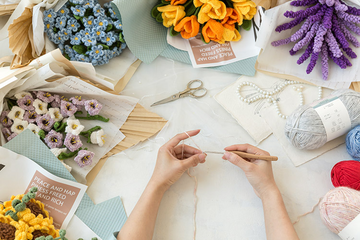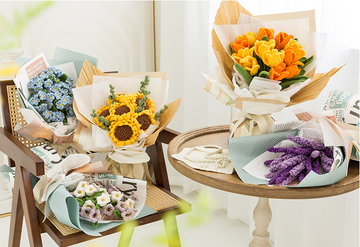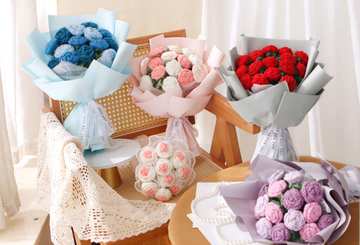 WHAT IS HANDMADE?

Worldcrochetflowers is one of the crochet brands. All our products are handmade. Every stitch and thread comes from the hands of every crocheter. Hope we can bring you the most sincere products!

All our products are 100% hand-crocheted. Unlike knitting or sewing or other fibre crafts, crochet is a process that cannot be mechanized so each stitch is made by hand. Every product takes, on average, about 3-5 working days to make, depending on size and complexity.
Each character has their own story and I am writing these stories down and making handmade story that are included in the price of each product.

Whenever possible, separate parts of each product are crocheted together rather than sewn. This improves the toy's durability and ensures they can withstand robust handling.

We accept customized crochet products

At checkout please provide all customization requests (colour choices, for example). Upon receipt of your order I will send you an email confirming the details of your order and the expected delivery time.

WHAT IF I NEED TO CHANGE OR CANCEL MY ORDER?
Should you have any changes to your order, please email contact@worldcrochetflowers.com or contact us as soon as possible. Please remember we aim to process orders as quickly as possible and can only accommodate changes prior to shipping.

WHAT'S THE STATUS OF MY ORDER?
Once we have shipped your item, you will receive a confirmation email from us along with a notification from our parcel delivery partners.

The notification from our delivery partners will have tracking numbers and clear instructions on how to track your items.

WHAT ABOUT DUTIES AND TAXES ON MY ITEMS?
No additional fees or taxes are applied for orders within Asia and USA. For other countries, customs and/or import duties are often applied once the delivery reaches its destination, and any of such fees must be paid by the addressee. Unfortunately, we have no control over these charges and cannot foresee what the relating costs might be as customs policies and import duties vary widely from country to country. If in doubt, we recommend contacting your local customs office for more information before placing an order. You can email to contact@worldcrochetflowers.com or contact us and we will do our best to help!

I'M NOT SURE IF MY ORDER WENT THROUGH?
If your order was successfully processed, you would have received an email – please check your junk box as well, sometimes it goes there! If you can't find the email, please contact us by email to contact@worldcrochetflowers.com and we will find a solution.

If you double the order by mistake, we will also cancel and refund will be sent to your original payment in 1-2 business days.

I'VE RECEIVED A FAULTY ITEM, WHAT SHOULD I DO?
"If you get in touch with us immediately we'll do our best to action your request.

Our team are working hard to process orders quickly so depending on the stage of processing that your order is at when we receive your request, we may not be able to amend or cancel it. Don't worry if that's the case - we will help you with returning the order.

Please note that we are unable to amend the delivery address for an order once it has been dispatched. You will need to contact the courier directly to do this.

HOW LONG WILL IT TAKE TO GET MY ORDER?
Most of our items are made-to-order and might take anywhere between 6 and 15 business days to complete: home textiles 3-5 business days, clothing 7-14 business days. Once the order is ready, it will immediately be shipped to your destination. For more information, please contact us by email to contact@worldcrochetflowers.com

CAN YOU MAKE CUSTOM SIZE?
We do offer custom sizes for all our products including bedding and clothing. To request a custom size, please email us contact@worldcrochetflowers.com and we'll calculate the price, production and delivery times for you.We are more than happy to help, feel free to contact us.

DO YOU OFFER WHOLESALE?
We do offer wholesale of all our products to like-minded stores, boutiques, hotels, and restaurants all over the world. Send us an email at contact@worldcrochetflowers.com and we'll send you our wholesale terms and conditions.


DO YOU MEET YOUR DELIVERY TIMESCALES?
Stock permitting, all orders are usually dispatched the next working day after receiving the payment. In the event that an item is temporarily out of stock, we will notify you of the delay and dispatch it as soon as it arrives.

We do try our best to meet the delivery timescales that we quote, but occasionally a parcel can be late due to reasons that are out of our control.

Our products are mostly handmade and custom orders, so it will take around 10 days for production time and international shipping will take up to 6 days for delivery.
All our crochet designs
Each product proves our expertise and service to crochet