Our Story
There's nothing quite like our crochet bouquets. We always give you the best!
"We get that warm and fuzzy feeling single time."
Everything happens with love, and we know that warm and eternal love!We know that it feels as good to give as it does to receive.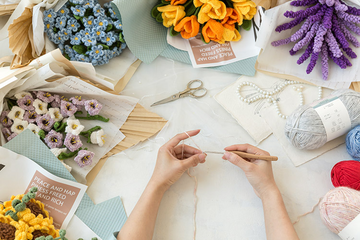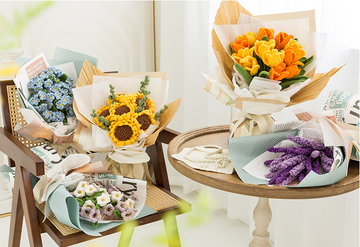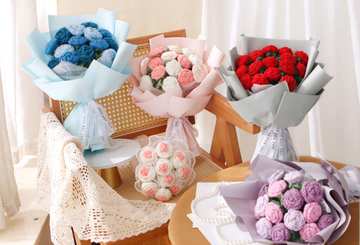 A little bit about us...
Every time I can deliver my own crochet bouquet to the other party with another meaning of love, I feel extremely happy and always warm in my heart!
World crochet flowers is handmade crochet bouquet Shop. Since opening they have been serving all around the world with crochet flowers arrangements and gifts of all kinds! Exquisite design and unique handcraft have always been favored by everyone.
World Crochet Flowers is a local crochet bouquet shop founded by an experienced handmade named Kelly, who has long dreamed about opening up her own handmade DIY shop. Growing up as a young girl near the handmade business and later doing her own designs for personal needs and such, Kelly has always loved handmade crochet and DIY industry, and is overjoyed by the smiles she can bring to people's faces through her work. And at World crochet flowers, she put our all into her designs, keeping up with new trends but still keeping her own unique, rustic design sensibilities. Kelly will work hard in making sure she listen to the needs of her customers and provide professional service in order to meet those requests, always going above and beyond with each arrangement that is created. She do this for the love of crochet bouquet design, as well as for the smiles it brings to the faces of her customers and the recipients of their gifts. 

At World Crochet Flowers, we craft both traditional and contemporary bouquets, with plenty of room for customization and uniqueness. We really go above and beyond with our unique and custom designs, and provide our customers with an intimate experience. We put our all into every arrangement that we sell, from our Anniversary  to friend gifts, Birthday and all of our other options. 
In addition to the daily matching of crochet bouquets, we also accept crochet custom work for different occasions and meanings. If you need to create different atmospheres in different occasions, we can tailor it for you according to your requirements custom made!

Our Guarantee
After you have ordered beautiful crochet flowers with us, you'll never again have to wonder, "What's the best crochet flower bouquet shop near me?" At World Crochet Flowers, we make sure that every arrangement is made with genuine care.
Breathable and skin-friendly yarn, unique design and craftsmanship, fashionable matching of different colors, every stitch and every thread proves our strict requirements for handwork and exquisite craftsmanship. And we guarantee that every bouquet you buy with us will never fade, bringing joy not only to you, but also to the recipient of your gift.
Below are only some of the many benefits of shopping with World Crochet Flowers:
Our 100% Satisfaction Guarantee
Exquisite design and unique handcraft
Easy Online Crochet Bouquet Ordering
Personalized Care with Each Order
Tailored to you according to the requirements you provide
Handmade Crochet Bouquet & Gifts for All Occasions
What makes World Crochet Flowers so special?
So, we hear you ask, what's our secret to creating the perfect feel-good connection? Well, it's a tried and true combination of the most stunning crochet bouquets, arranged with love, and each of our artisans is good at delivering the perfect handmade gift!
All our crochet bouquets are hand-crocheted, the color and craftsmanship of each bouquet are designed by our professional staff, and the bouquets suitable for different scenes can better express our seriousness and service!
All our crochet designs
Each product proves our expertise and service to crochet